FIELD TRAINING SCHOOL AND RESEARCH SEMINAR
URBAN ETHNOGRAPHY AND THEORY
Montecatini Terme, Tuscany, Italy, 18-26 July 2022
Convenors:  Italo Pardo and Giuliana B. Prato, University of Kent, UK
With more than half of the world's population now living in cities, and this proportion set to increase to two-thirds by 2050, the ethnographic study of life in urban settings is urgent and important. Urbanisation proceeding at such a pace has meant increases in the number and size of cities but also continues to alter the social fabric of urban centres, sometimes in profound ways, leading to new policy priorities (such as the globally encompassing Sustainable Development Goals). 'States of emergency' (prompted by violence, pandemics, crises) add a further layer of complexity. These multifaceted contemporary urban changes raise pressing methodological and theoretical questions.
This Field Training School and Research Seminar brought together 25 postgraduate, doctoral and postdoctoral scholars from around the world. It was convened by Italo Pardo and Giuliana B. Prato on behalf of the International Urban Symposium-IUS and in collaboration with an international group of senior scholars.  The working language was English.
The School offered an interactive learning environment and extended opportunities to discuss in depth the rationale and practices of traditional and new research methods and mainstream debates. Students had the opportunity to present their own research and receive feedback from leading scholars; and to engage in team work and networking,
Over 9 full days, the School developed through 21 Teaching Seminars, for a total of 38 hours; a 1-day targeted field trip followed by 6 hours discussion of students' reports; and an 8-hour Research Seminar during which students' presentations were discussed by the group.
The Teaching Seminars were led by (in alphabetical order): Gary Armstrong (City University London, UK); Subhadra Mitra Channa (University of Delhi, India); Ebru Kayaalp Jurich (Yeditepe University, Turkey); Jerome Krase (City University New York, USA); Marcello Mollica (University of Messina, Italy); David Nugent (Emory University, USA); Italo Pardo (University of Kent, UK); Giuliana B. Prato (University of Kent, UK); Michel Rautenberg (University of St Etienne, France); James Rosbrook-Thompson (City University London, UK); Liora Sarfati Tel Aviv University, Israel); Manos Spyridakis (University of the Peloponnese, Greece); Adeem Suhail (Yale University, USA). The seminars focused on methodological and theoretical debates, benefiting from the leaders' wide range of ethnographic, methodological and theoretical expertise to address interrelated topical issues, including:
• urban diversity, migration, informality;
• legitimacy and legitimation;
• governance, stereotype and stigma;
• sport mega-events;
• rituals;
• crisis, emergency and conflict;
• public space, vernacular landscape, heritage, identity.
Having completed the readings for the teaching seminars, the participants actively engaged in discussion.
The primary aim was to train students in the 'art' of conducting ethnographic fieldwork and develop the link between ethnographically-based analysis and social theory. The in-class work was supplemented by structured city walks and focused observational field trips on which students produced field reports. Two seminar sessions were dedicated to the teams' presentation, with the aim of developing and fine-tuning skills on writing research reports and engaging in the ensuing discussion.
With a view to honing and developing junior scholars' skills as future professionals, the School culminated in a full-day Research Seminar that gave students who are engaged in research the opportunity to present their work, engage in academic debate and benefit from expert feedback from the teaching staff.
Publication. Expanded and revised versions of select Seminar papers are expected to be published in outlets associated with the IUS, including the open-access, peer-reviewed journal Urbanities-Journal of Urban Ethnography (https://www.anthrojournal-urbanities.com/).
The group enjoyed evening concerts at the splendid Terme Il Tettuccio, a World Heritage Site, and an evening at the medieval hamlet of Montecatini Alto.
This successful international academic endeavour gained local recognition.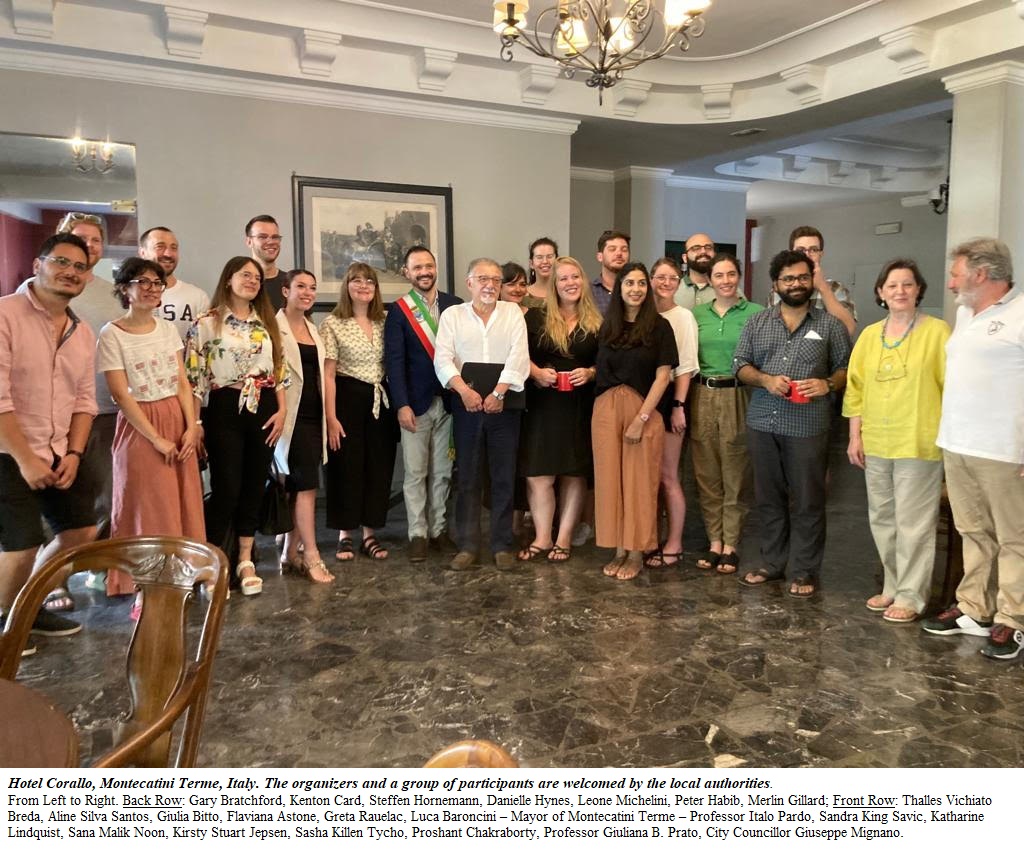 FAREWELL PARTY